Picture this mobile shelving
Ecospace's mobile shelving for the British Antarctic Survey library in Cambridge combines space-saving storage with stunning graphic design.
13 Jul 2017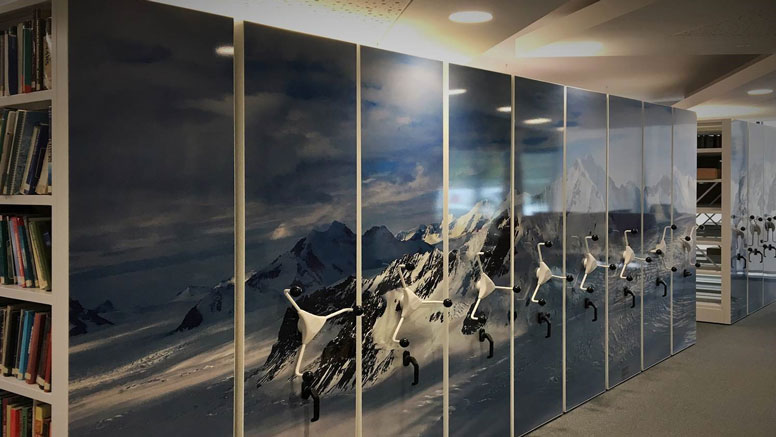 The British Antarctic Survey's recently completed innovation centre 'Aurora Cambridge' will enable BAS to generate new research and entrepreneurial activity focused on climate change and challenging environments through academic, business and policy partnerships.
Installed in the library in 'Aurora Cambridge', Ecospace's mobile shelving combines the benefits of space saving storage with an extremely appropriate decorative feature. Ecospace has screen printed the end panels of the shelving with a striking image of Antarctica.
Built on rails recessed into the structural slab to ensure a completely level floor surface throughout the library area, the high quality mobile units are easily moved to allow rapid access to the contents of the collection.
The company says: 'In addition to screen printed end panels, mobile shelving can be finished in a choice of colours to blend or contrast with the surrounding environment and, as well as screen printing, end panels can be supplied perforated or timber veneered with glass offering a further option. A comprehensive range of accessories including different types of shelf dividers, filing frames, drawers, reference shelves and hinged or sliding doors is also available. In support of the supply and installation of its systems, Ecospace provides fully comprehensive technical, design and after-sales services which include the preparation of 'requirement surveys' and space planning.'