Herefordshire Archive opens with new racking solution
The new £8.1m building housing Herefordshire Archive and Records Centre opened last month with storage and access facilities which meet national standards.
08 Sept 2015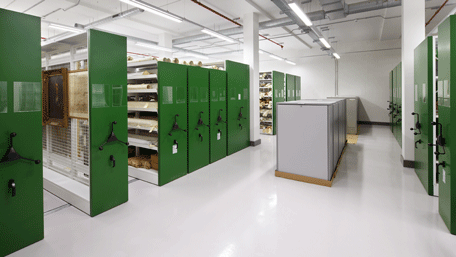 The new centre offers a range of social and community outreach programmes, a dedicated educational room and improved facilities and access for the public.
The new building has better access for visitors and is more energy efficient, with running costs significantly less because of the leading edge "passivhaus" design.
Moving and housing the archive
To house the archive, which consists of records in boxes, maps, rolled documents, photos and framed portraits, Forster Ecospace was selected to supply and install shelving throughout the building.
To accommodate long rolled documents, some mobile shelving has been fitted with central uprights to support bracket mounted shelves complete with upstands at the front while the majority of the other mobile units have adjustable shelves fixed to uprights at the corner of each bay. Mobile units with a central mesh backing provide storage for picture hanging and a special static unit with tall compartments and full depth solid dividers houses photographs.
Working closely with the staff of the archive before the move to the new building took place, Ecospace personnel determined the amount and type of shelving necessary to store all the records, consisting principally of 17,500 boxes, 10,000 volumes and 5,000 maps, and were then able to plan the shelving layout which takes into account the necessary storage needed for future expansion.
All shelves are white but end panels for mobile units have been finished in blue, green and yellow and are used on the different floors of the building to create a cheerful, colourful environment.
Elizabeth Semper O'Keefe, the Collections and Archives Manager, said: 'The mobile units themselves are easy to operate and the shelves are straightforward to re-pitch – a key requirement in the 8 week move period! Overall, we are delighted with the finished product.'