Managing a successful library design and furnishing project
This Essential Design Guideline is a brief guide to successfully managing the process of planning and implementing a new or refurbished library interior.
Designing libraries and learning spaces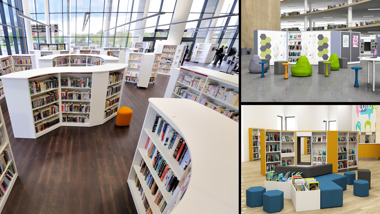 Designing libraries and learning spaces has become more complex over recent years with introduction of shared services, self-service, merchandising and e-books, and accepted requirements for spaces for collaboration and to enhance wellbeing.
The scope for designing a library space is broad (and will only get broader!) and needs to take a considered, strategic, collaborative approach.
A successful outcome for any project depends on sound detailed planning and consultation during the preliminary stages, good communication, and then adhering to these plans as much as possible.
Your project team may be required to learn new skills such as:
reading plans and scale
interpreting drawings
producing and distributing relevant meeting notes
scheduling timeline meetings and communicating across sometimes multi-platform channels
The more you know now, the more you will be able to stay in control later!
Your library designer wants to create the perfect space for your needs and so will be happy to help you through the process.
Download the full Essential Design Guideline publication from this page.