Rugby Library and Makerspace
As part of the Warwickshire Framework agreement Thedesignconcept fitted out Rugby Library and introduced a Makerspace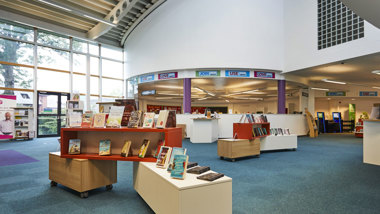 The aim of Warwickshire County Council was to encourage a wider audience to participate in library use and to increase the use of available resources. The brief called for an exciting and innovative solution to the provision of internal design and fit out to create a Makerspace as well as designing the entire library space including the main entrance, and activities room, children's library and mezzanine space.
The space was to be designed to be flexible, welcoming, customer friendly and approachable.
Thedesignconcept rose to the challenge. The new space has clearly defined zones for quiet reading, soft seating areas to encourage social/ relaxing visits, while a bright children's space with cocoon seating, character chairs, mobile shelving and book storage is always busy with curious and playful children.
The mezzanine area is a study haven with PC banks and 'bring your own device' facilities. A branded Makerspace provides the community with access to cutting-edge technology and equipment designed to encourage new ways of thinking and boost creativity.

Opening to the public in October 2018 the library and makerspace has received amazing feedback and the space is constantly filled with users of all ages and abilities.