Plymouth Central Library
Plymouth City Council's decision to relocate the library to the heart of the city was a strong influence on the design idea for the space.
A library for the heart of the city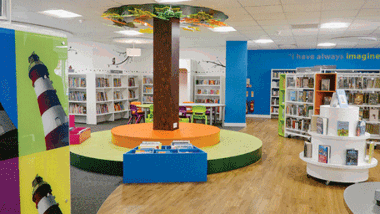 The new library is surrounded by high street retailers and thedesignconcept, selected for the interior design project, has created a vibrant ground floor with eye-catching features and a commercial feel.
Visitors enter via the Armada Way entrance and are encouraged to follow the flow of Cocoon furniture to reach the stunning children's area and be welcomed by an amazing statement tree in the centre, a feature that stimulated the entire design of the library space.
Brightly coloured furniture, wall graphics and Warhol inspired lighthouse acrylic end panels bring the library to life.
In a complete contrast to the ground floor, there is a noticeable change in pace on the first floor. The lighthouse theme is continued as a reference to the city, but the colours change to suit the more subdued, study-friendly environment.